The Italian Riviera is one of Italy's most evocative destinations of all time. Combining breathtaking scenarios of plunging green hills with picturesque villages on emerald shores, it has robbed the hearts of thousands of travelers headed to its famous Cinque Terre. Now we want you to discover its hidden, less known gems. If you are craving for more of this beautiful niche of Italy follow us into an alternative tour of the magic Italian Riviera, and make memories that will stay with you forever!
THE ITALIAN RIVIERA HIDDEN TREASURES
Do you have friends who have already visited the Italian Riviera, and still swoon at the time they spent at the Cinque Terre, while copiously nibbling their trofie al pesto?
This is unsurprising, because Liguria – the north-western Italian region where the Italian Riviera is located – is truly spectacular and unique. If you still haven't been to the Cinque Terre – a chain of five ancient fisher villages graciously laid along the rugged coast of Cinque Terre National Park and also a UNESCO World Heritage Site – we definitely recommend to include them in your next itinerary. Even if it's a small detour from your main schedule, you won't regret it!
If you have been there, but you have more time and are longing for more mesmerizing experiences in the Italian Riviera, you're reading the right post: here are the 5 gorgeous locations that you have been looking for to make your tour of the Italian Riviera something to really swoon at forever.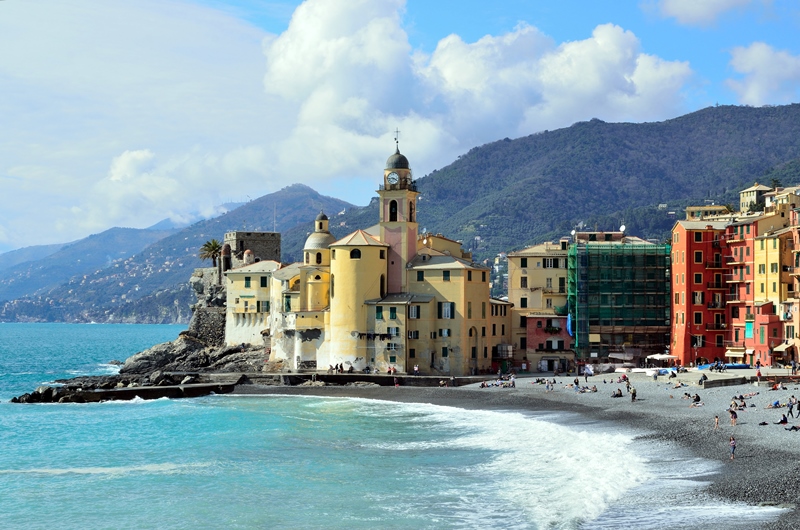 Start your alternative tour of the Italian Riviera from Camogli. This small, typical maritime village will be the perfect place to have some of the best focaccia in the whole region at Revello, while strolling around its vividly colored alleys and breathing salty air sitting on its stony shore. We recommend spending some idle, meditative moments staring at the see from some of the many cafés and wine bars on the front terrace facing the sea. From Camogli you have several traveling options to reach our other recommended destinations: by ferry boat to Portofino – Baia di Paraggi and San Fruttuoso Abbey, by train to Sestri Levante- Baia del Silenzio, by foot to the panoramic view over Capodimonte Cove provided by the Agririfugio Molini.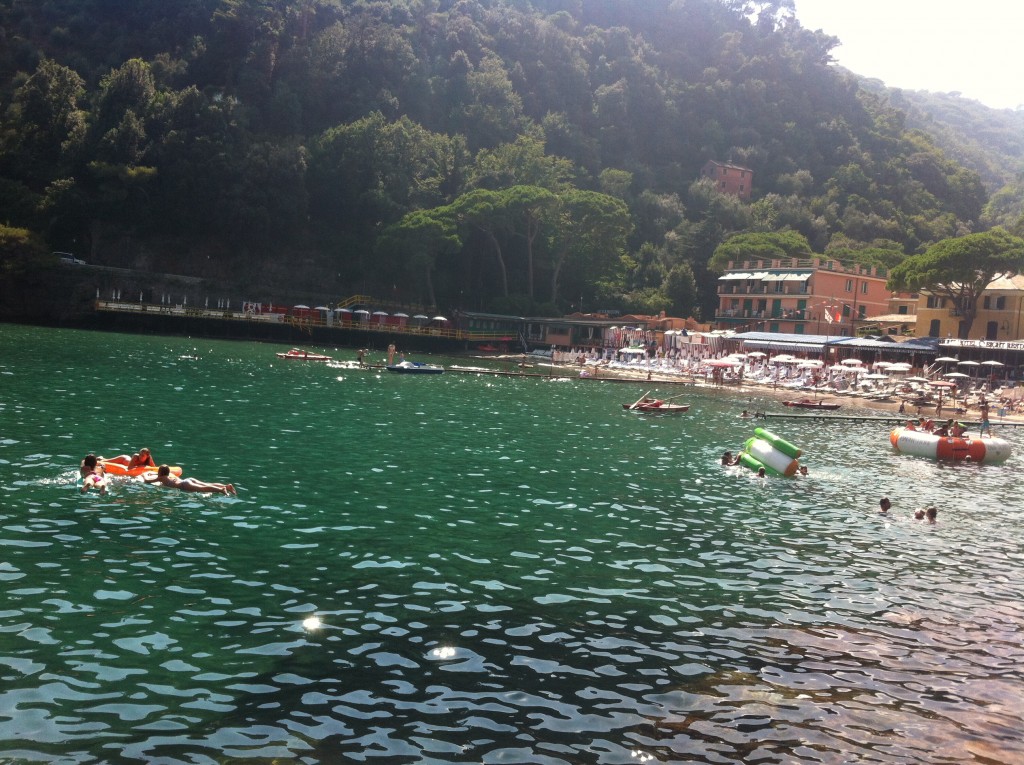 Reaching Portofino by ferry boat from Camogli will catapult you into an elegant, fashionable village where you'll be docking right next to surreal yachts and private boats: there is a considerable chance you'll meet some local or international VIP. However, we suggest that you have your celebrity experience at Baia di Paraggi: take the forest trail that from Portofino leads to this dreamy bay, and in 30 minutes you will reach one the most indescribable places on earth. Be sure to have your swimming suit with you: it is worth spending a day at the iconic Bagni Fiore to have a real la dolce vita experience, tanning on their luxurious deck chairs while being surrounded by lavish nature.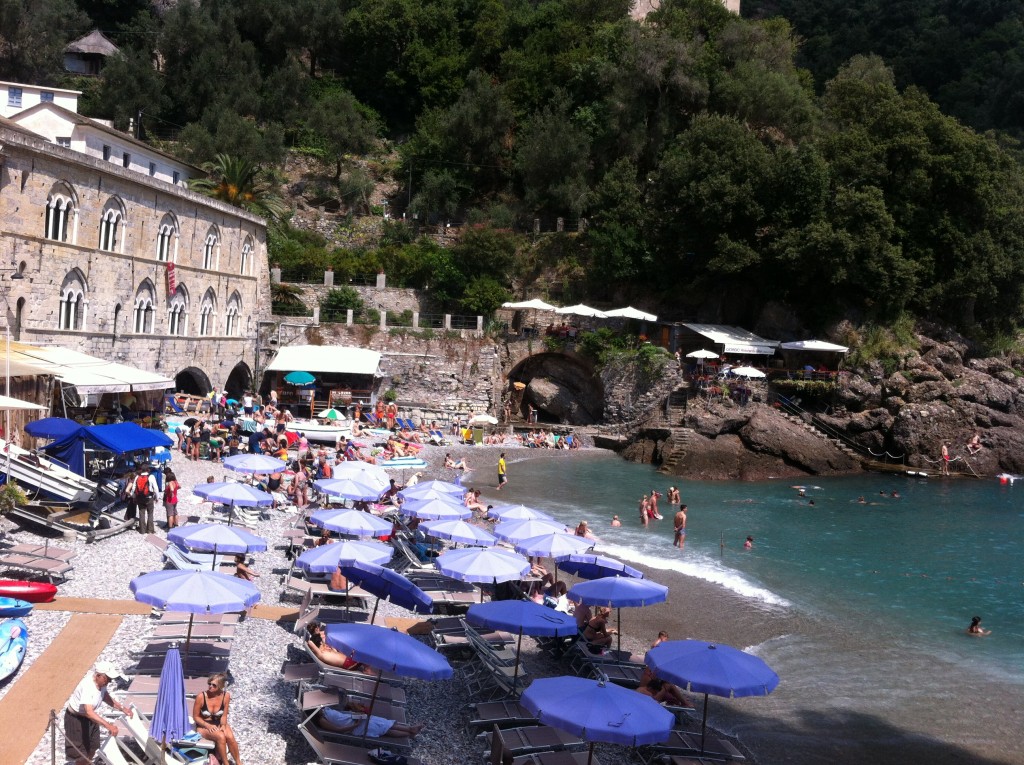 San Fruttuoso Abbey is an extraordinary site that will make your soul rejoice. Literally tucked in the Capodimonte Cove, it's like a diamond in a rock: hard to find, and even harder to leave once you find it. For the reaching part at least you don't have to worry: take a comfortable ferry ride from Camogli and you will be at the Abbey in a short time. Here we recommend spending some hours in the sun on the tiny shore in front of Abbey, and when it gets too hot, refresh yourself visiting this thousand-year-old monastery, whose origins are still shrouded in mystery.
4) AGRIRIFUGIO MOLINI – PANORAMIC VIEWPOINT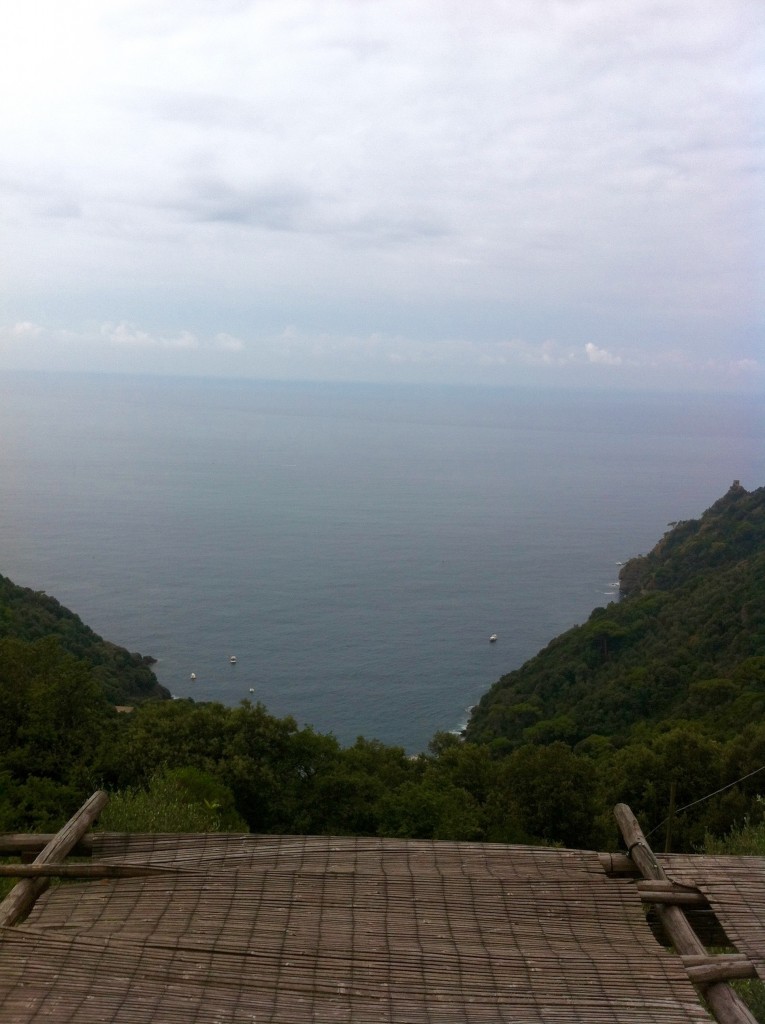 If you're feeling a little more adventurous and want to explore the Italian Riviera hiking, we totally welcome and encourage your idea! Start your walk from Camogli and follow one of the many well signaled trails inside the Portofino National Park heading toward San Fruttuoso Abbey. Getting to the Agririfugio Molini by slowly descending the hilly peaks of the Italian Riviera will prove to be an unforgettable experience. You absolutely have to stop and eat at this organic, seasonal food selection, while directly facing the sea from up above: we do not think you can get any closer to paradise! You can then keep following the trail down to San Fruttuoso Abbey, and make your way back to Camogli by ferry boat.
5) SESTRI LEVANTE: BAIA DEL SILENZIO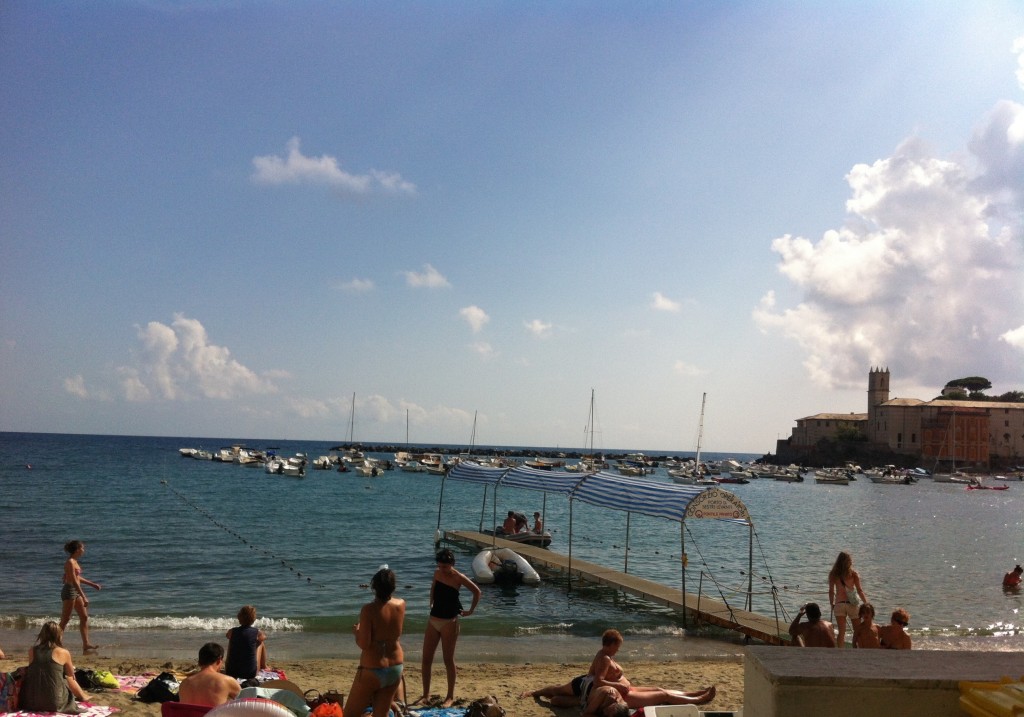 Sestri Levante is a vibrant, scenic small town approximately half an hour ride by train from Camogli. Its joyful atmosphere is palpable when walking around its small streets and artisan shops selling traditional bakery products. It's understandable why Sestri Levante inhabitants always seem to be so high-spirited: turn the corner of one of its many alleys, and you'll bump into the Baia del Silenzio – the silence bay – , a slim shore right inside the heart of Sestri Levante, so unexpected and beautiful it'll make your heart race. Stop by to enjoy the view and the Riviera sun, you won't find places like this anywhere else!